Hotel, B&B or stays in rented holiday accommodation mean relaxing holiday time for some and dull business trips for others but whatever the purpose of your stay you need ensure the safety of yourself and your family.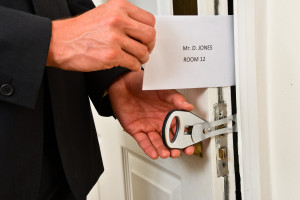 People believe that they are safe and secure in their hotel or B&B room when they see a good lock, the same applies to the front door on the rented holiday accommodation. No matter how well-known a hotel chain is, how reputable the B&B, or the firm through who you've rented your holiday house/flat, and no matter its location there are always security risks.
Even in the most respectable of hotels, B&Bs & holiday accommodation, rooms are broken into on a regular basis. Many thefts also often take place at night when guests have locked the door and believe that they are safe.
Individuals often don't realise that their valuables have been stolen until they wake up and start to search for their phone, wallet, watch, laptop or other valuables. With no sign of a break in it seems like a mystery. It is important to know that in most holiday accommodation  many members of staff from cleaners, housekeepers, maintenance workers, receptionists, porters and managers all have access to keys, and in hotels to a universal key which will open every room in that hotel. People also don't realise that the universal master keys carried by many hotel staff will override the deadlock put in place in the hotel room, so if you are asleep inside the room, having secured the deadlock, someone can still come in.
Personal safety is also of utmost importance. Solo female travellers, for example, often feel nervous alone in their holiday room. Have you also considered that young children could wake earlier than you on holiday and walk out in to a hotel corridor, or worse still on to the street.
The solution? A portable lock as strong as steel that will secure the room while you're inside. The EasyLock is a temporary door lock that's lightweight, portable, incredibly strong, and simple to use. With the EasyLock in place no one can enter your room even if they have a key or key card. Your room can be secured whatever distant location you are in. You will be in control of all who enter the room while you're inside and it will even allow you to open the door slightly to check that any visitor are knocking for a genuine reason.
Now you have completed control over who has access to your room.